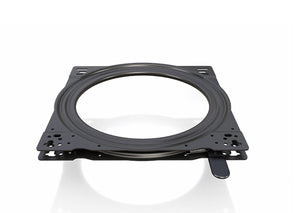 Fully universal.
The Aguti Universal seat swivel – designed to suit the Sprinter 2018+ single passenger and driver seats.
Designed with weight in mind.
With a new superlight design, this central pivoting swivel weighs in at a mere 6.7kg.
Seamless Transition.
Built with high quality bearings to allow an effortless, smooth rotation.
Full GTU Approval.
Built with safety in mind.
No Boxes Left Un-ticked.
Includes full installation instructions, as well as a handbrake lowering kit.
Additional Information.
Installation of this swivel will increase the seat height by 29mm.

Modification to the handbrake is required for the drivers seat to swivel.